Inground Pools: get inspired to create your dream backyard!
When we think of inground pools, we think of pool parties with friends and family, relaxation, summer fun and poolside cocktails! There's nothing better in the summer than lounging by the pool and making memories to last a lifetime. With more and more materials, models, colours and styles available, the sky's the limit for anyone looking to buy an inground pool in 2023.
This year there is also a wave of new developments and trends, including swimming area designs, pools that blend in with the décor and new pool designs. Get ready to be inspired!
Inground pool models and styles
More and more, people want to create a backyard paradise. Inspired by travel, available space and international trends, these dream pools are now a reality:
Inground pool with built-in spa
Swimming corridor or pool
Inground pool with beach
Spillover pool
Raised pool
Modern inground pools with features such as a waterfall, jets, built-in loungers, etc. are increasingly popular, as are pools with a shallow area: not only is it a great place to lounge and relax, it is convenient for families with younger children as a play area.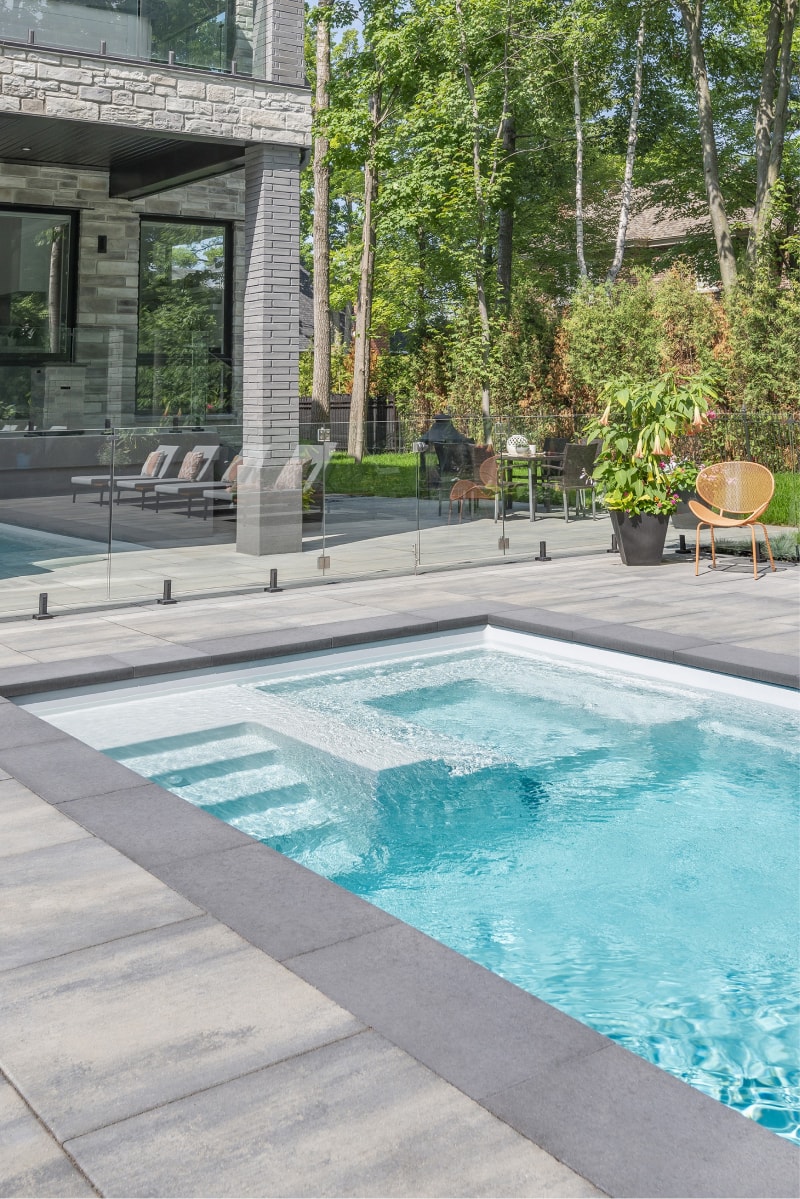 Interested to find out which popular materials will give you the style you are looking for to create your dream pool? Read on:
Steel inground pool  
This type of pool allows you to enjoy a wide choice of shapes and designs. Thanks to advanced galvanisation techniques, this pool is the most durable and resistant, plus it offers excellent value for your money.
Concrete inground pool
Looking for a highly customized inground pool? This type of pool is for you! Although it requires more planning, it offers more flexibility to integrate other elements, such as a spa. While a little more costly, a concrete inground pool will last a lifetime.
Polymer inground pool 
Polymer pools are renowned for their durability and superior resilience. They are an ideal choice for uneven or unstable ground and offer excellent thermal insulation to maintain water temperature.
Fibreglass inground pool 
One of the most versatile and popular models on the market, fibreglass inground pools are quick to install, easy to maintain, come in a range of shapes and offer excellent heat retention and value for the money. The robust fibreglass shell is particularly resistant to our harsh climate.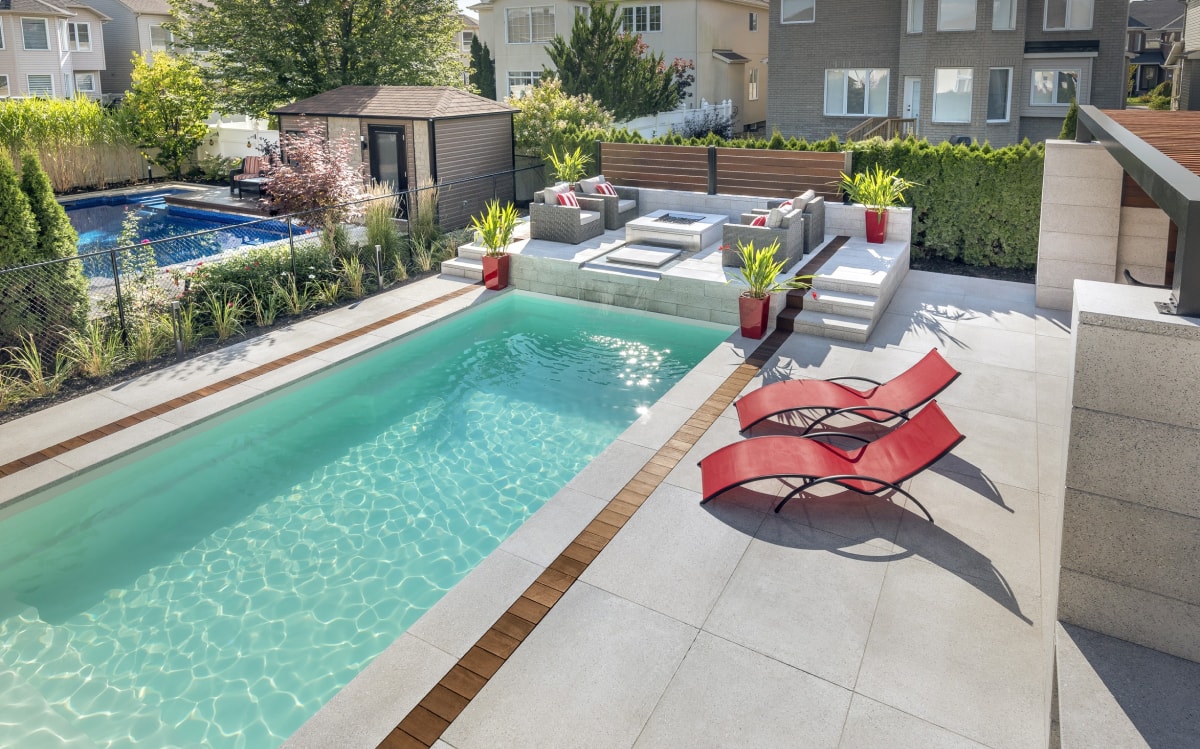 Minimalist rectangular shapes continue to gain in popularity.
Inground pool shapes and size trends
It used to be that if you wanted to install an inground pool, you needed a large yard; if you lived in the city without much space, installing a pool wasn't really an option. Fortunately, in recent years there has been a strong trend towards maximizing space and ensuring a balance between decorative elements and the pool.
Swim corridors, mini inground pools and small square or rectangular pools all offer an ideal solution for smaller spaces or city yards.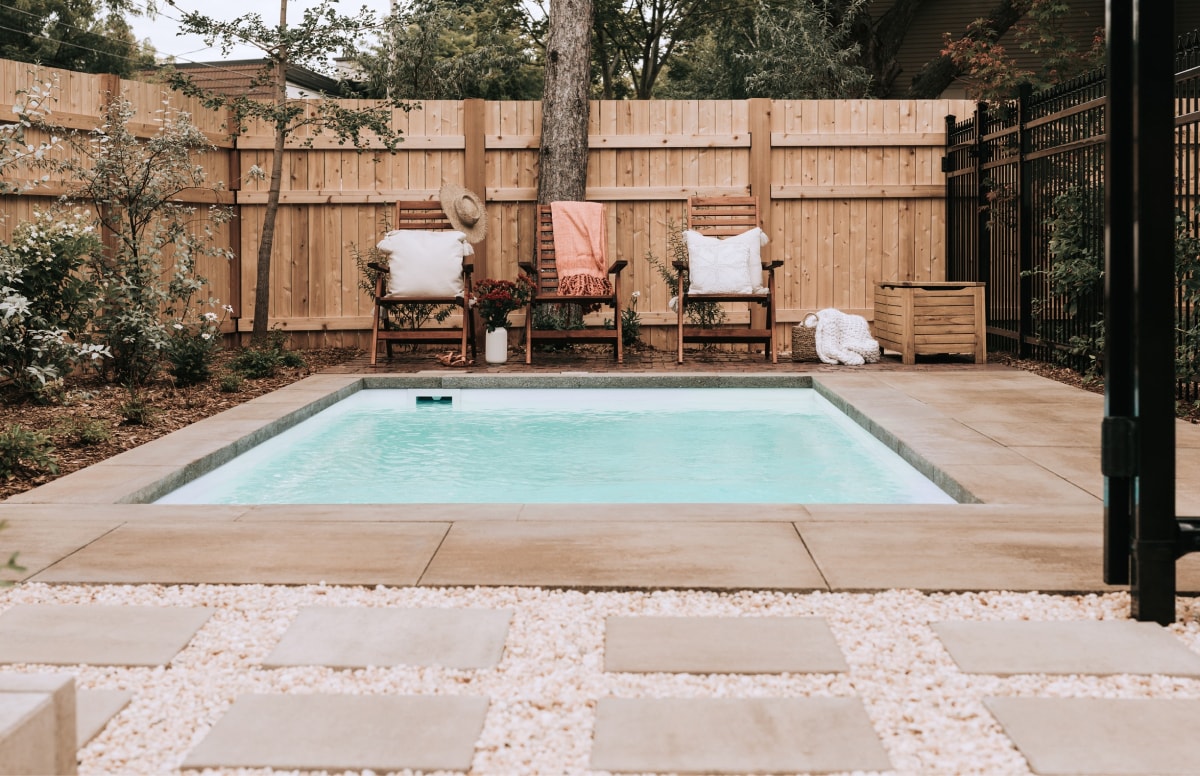 With the wealth of options available today, you are sure to find exactly what you want to create your perfect backyard. Everything is possible!
For more inspiration, check out: https://www.simacanada.ca/en/inspirations